About Pam Carter
Pam Carter DA PAI was born in Tanzania, East Africa. Her Scottish father and Austrian mother came to Glasgow when she was aged thirteen. Pam gained a degree at Glasgow School of Art and has lectured for many years in Schools and Colleges including lecturing at Falkirk College. She exhibited throughout this time. In 2003 she became a full time painter.
"My main inspiration is in Scottish land and seascape. I enjoy using colour to define contours, structure and changing light sequences. I search out specific view points. I am equally inspired by the changing light sequences of the Western Isles and the dramatic view points of the Eastern coastline. I work predominantly in oil."
Collections & Awards
Pam's work is in numerous private and public collections including the Royal Bank of Scotland, the University of Liverpool, Baillie and Gifford, Cameron House, Port Charlotte Hotel on Islay and Hotel Eilean Iarmain on the Isle of Skye.
Work selected for the Laing calendar 1993
Royal College of Physicians and Surgeons Award, RGI 1996
Paisley Institute Award 1998
Visual Arts Scotland Award 1999
Mark Greer Award, Paisley Art Institute 2009
The Diploma of Artist Membership of The Paisley Art Institute (P.A.I.) 2019
The Elizabeth and Harry Swan Award, Glasgow Art Club 2019
Exhibitions
Annan Gallery, Glasgow
Art Agency, Esher, Surrey
Arran Art Gallery, Arran
Gallery An Talla Dearg, Isle of Skye
Gallery Heinzel, Aberdeen
Jetty Gallery, Oban
Strathearn Gallery, Crieff
Walker Gallery, Harrogate
Group Exhibitions
The Royal Glasgow Institute (RGI), Glasgow
Visual Arts Scotland (VAS) Edinburgh
The Paisley Art Institute (PAI), Paisley
Art in the Square, Glasgow
Affordable Art Fair, London
Chelsea Art Fair, London
Art Expo, New York
Affordable Art, New York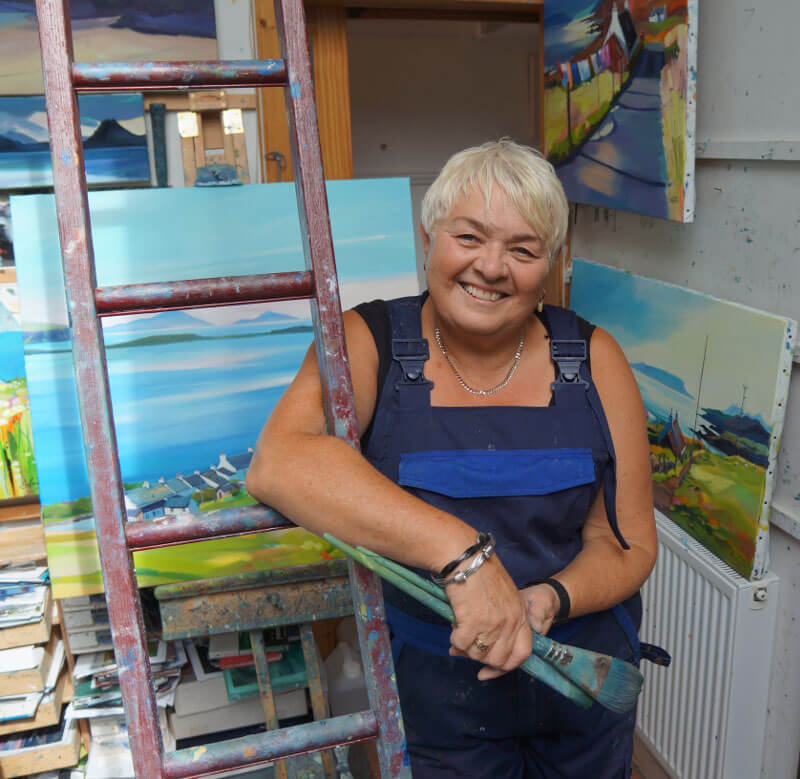 Pam has featured in The International Artist magazine, Executive Lifestyle, Scotland on Sunday, Inside Readers' Homes, Build-it, The Scots Magazine, Scottish Islands Explorer, Holiday Home Living, The Hebridean, The Skye Magazine, The Glasgow Herald, West Highland Free Press, The Home Show Magazine, Scottish Field and Living Magazine. She has also made several appearances on the BBC, including Castle In The Country and Landward.

Scott Art works in conjunction with Pam Carter and has first hand knowledge of her artwork. Owner Elaine Scott has worked with Pam for many years and has seen the paintings develop from conception through to being chosen to be produced for print. Elaine continues to deal with print production, while Pam concentrates on painting and other things.
For questions about our printing process, delivery options, or anything else, please see our FAQ page. If you can't find what you're looking for, please contact us.